Wandering the Annapurna Himalayan Range and the Annapurna Base Camp
It is always a great time to visit Nepal – Never Ending Peace and Love, as this bustling small country in the himalayan region is referred to, by many trekkers and outdoor enthusiasts who remain captivated by the panaroma of several vast himalayan mountain ranges. It is the home of 8 of the 14 tallest peak over 8000 meters in the world.
Vivek and I planned for a 7 day Annapurna base camp trek in February 2019, knowing that this is a winter season with some uncertain weather at the mountains but we wanted to take advantage of us being in India at the same time. The plan was to start at Nayapul and trek through Gandruk, Chomrong, Dobhan, Deurali to Annapurna Base Camp (ABC) and back.
As luck would have it, our flight from Kathmandu to Pokhara was delayed several hours due to heavy rains – this only meant lots of new snow on the mountains! It has been snowing on the mountains for 3 days before we got there. With the rains in the valley, the road from Pokhara to Nayapul was at times through deep slush and took nearly 3 hrs. This led us to start our trek from Birethanti to make sure we can get to Ghandruk before dark.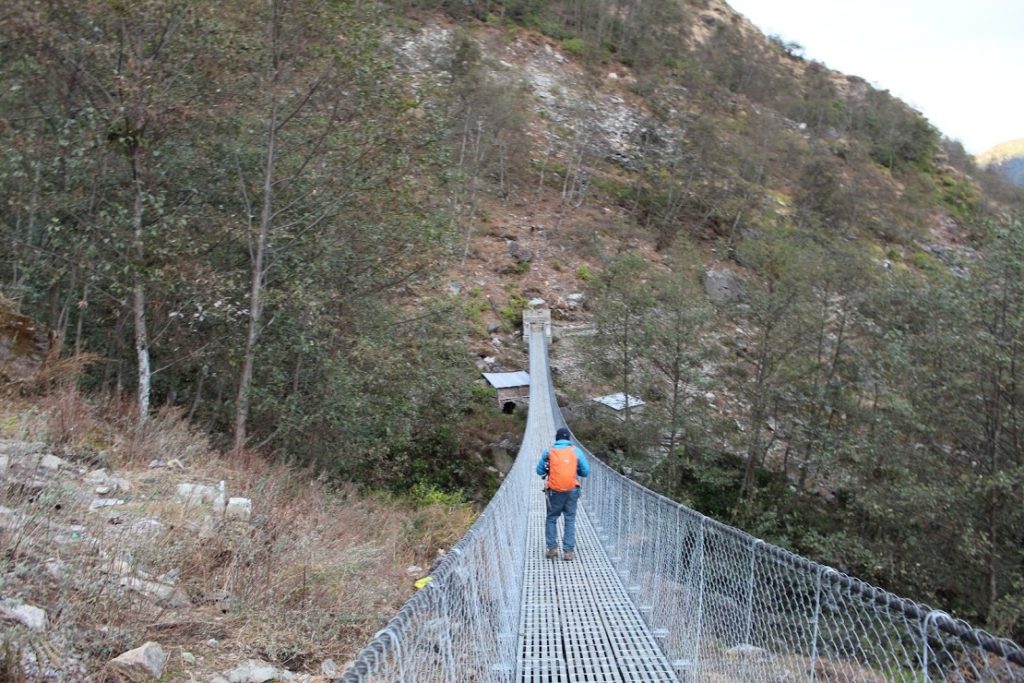 Crossing suspension bridges on route
We still made to Gandruk by dinner with cloudy skiies but close to Gandruk, we could catch our first glimpse of Maachapuchre and Annapurna South.
Gandruk is a small mountain town high in the hills with several clusters of tea houses. On this particular day, there was no electricity anywhere and it was dimly lit with candles everywhere with hikers huddled around these candles giving the whole town a magical glow. We sat down at a corner table lit with a candle and were quickly greeted by the hosts with some hot tea and then followed by a nice warm meal of Nepali dal bhat – rice, lentils and fresh cooked local vegetables – our first exposure to tasty local mountain food.
At night, temperatures fall below zero degrees Celsius and with no heating, we used our down sleeping bags on the provided beds to stay warm. At the break of dawn, we walked out of the room and were greeted by clear skies with gorgeous views of Annapurna south and Maachapuchre. I couldn't stop clicking pictures – every moment seemed different with the rising sun shining on to the mountains giving them a golden glow for a few minutes.
After a hearty breakfast with Gurung bread, omelette, porridge etc., we started towards Chomrong. As we climbed stone laden steps on the trail, we saw the clearest of the blue skies with snow clad mountains towering up to 7000 meters.
The towering mountains, green himalayan valleys, colorful tea houses, locals carrying wood in their conical baskets, mules, cows, chickens along the way were a complete feast to the eyes, leaving lasting impressions in the mind – there is an indescribable beauty and magnificence in the Himalayan valley that only can be experienced.
Once at Chomrong, we were again greeted with hot tea and nepali dhal bhat after which we rested the night there. The morning was again filled with towering annapurna south and machapuchre views, now feeling even more closer to the mountain base.
After soaking in the views and breakfast, we came to know that we cannot proceed any further due to avalance risk near Deurali. This came as such a shocker for us with our limited and restrictive 6 day itinerary with no extra day available in our plan. I kept the faith that we will make it to the base camp somehow. After few hours, it was clear that there will be no passage beyond Chomrong for at least 2 days due to avalance risk.
The good news is that there is no shortage of trails and vistas in the annapurna region. We instead decided to embark on the poon hill hike circuit which will take us to Tadapani for the night. This was a challenging hike as we had only 4 hours of daylight and we kept a much more brisky pace in what appeared to be crossing several mountains in the himalayan valley to cross over to Tadapani.
The next day we hiked to Ghorepani and on route were thrilled to get spectacular views of the Dhaulagiri range including I, II and III, with the tallest being I at 26,795 feet (8,167 metres). The path was fully covered in snow as we went through lush valleys with streams and then continued on to top of a hill where the full range was visible. Once at Ghorepani, our room had direct views of the dhaulagiri range and annapurna massif – a visual overload!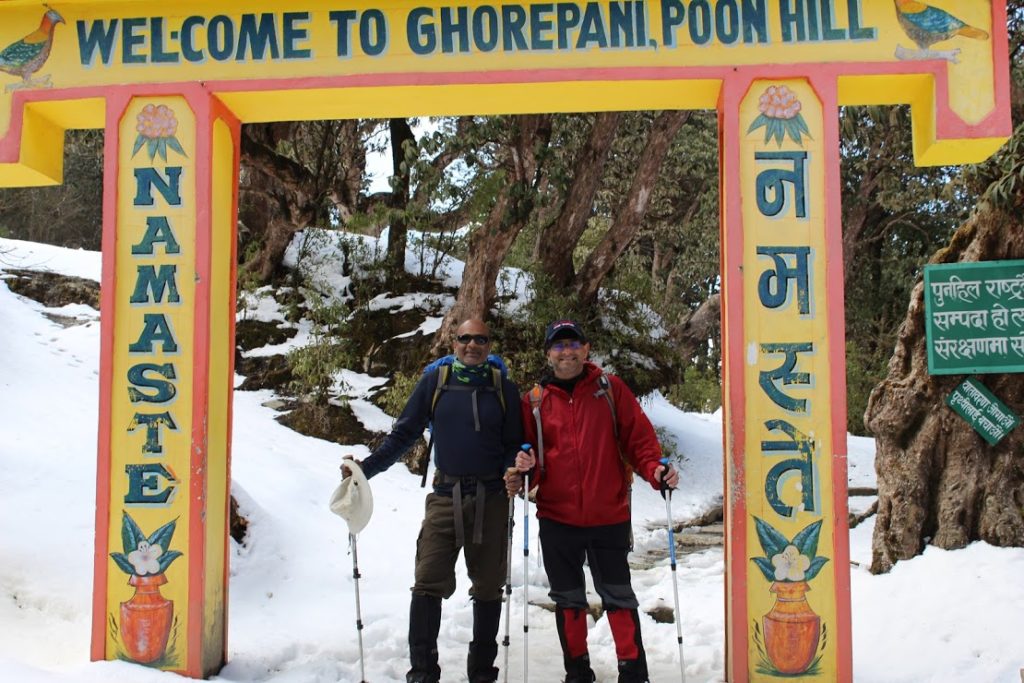 Ghorepani welcomes us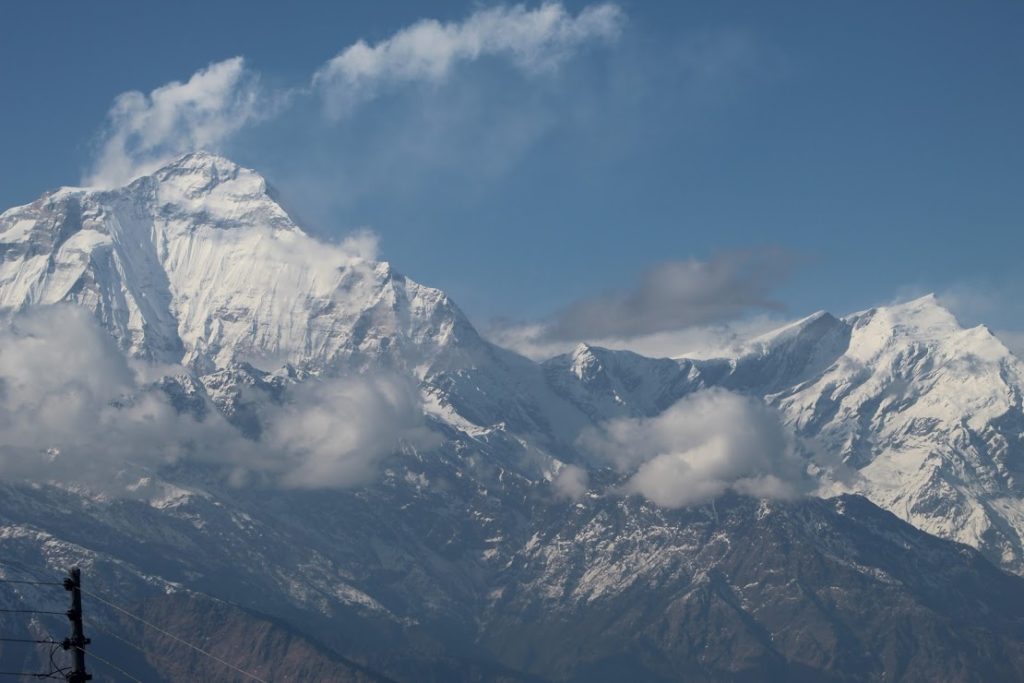 View of Dhaulagiri from Ghorepani
Following morning we started at 5 AM to see the famous sunrise views from top of poon hill. It took us a good hr to climb up the hill. Up top, it was cold but the morning air felt so pure and as the golden rays hit the mountains, even the peak of Annapurna I was visible above everything. This is a full 360 panoramic view of both the dhaulagiri and annapurna ranges and also far views of the Indian himalayas.
After many satisfying pictures and views, we made our way back to Ghorepani for breakfast and continued our way to Ulleri and towards Birethanti. We stopped for lunch at a tea house and came across this profound sign that says it all – possibly the highest spiritual realization there can be about oneness by simply saying namaste.
After a long day and at Pokhara in the evening, in spite of all the wonderful views and experience, I continued to have this unsatisfied feeling on not making to base camp. We were to be on a flight to Kathmandu next day in the afternoon. The only option was to get a chopper to go to basecamp in the morning before our flight to Kathmandu and that's exactly what we did. A quick 15 min ride took us over the himalayan valley with views of the tea houses and small villages and we flew right between machapuchre on the right and Annapurna on the left and touched down at the annapurna base camp which seemed to be fully snowed in with what looked like 10+ feet of snow with some of the base camp covered under snow.
The views from base camp were simply exhilarating and beyond words. We spent about 30 min there which is what Nirvana may perhaps be like – absolute bliss and took over by an overflowing joyous feeling. A great way to end the trip and make our way back home feeling fully rejuvenated!